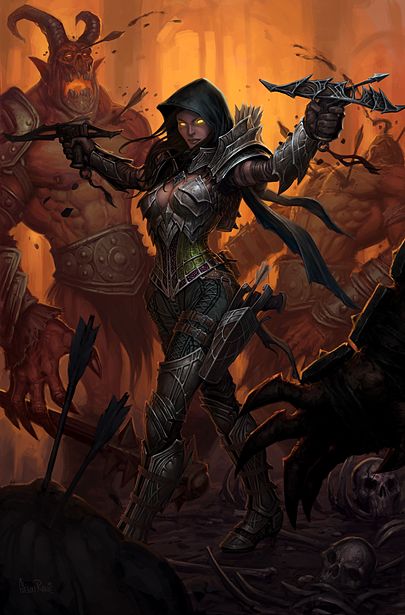 E ai galera marromeno, sou Paulo "Nerd Dendê" Koi e vim atender a convocação do Godmode para preencher as lacunas do blog durante a semana com notícias de games, coisas aleatórias e turismo sexual na Bahia. E para começar com o pé direito irei comentar sobre a minha franquia de games predileta: Diablo (pensou que fosse você né Donkey! Se fudeu, senta lá no fundo).
Desde o anúncio oficial, no distante ano de 2009, só cresce os rumores do possível lançamento de Diablo III para os consoles. E agora parece que porra ficou séria, pelo menos é o que circula nos blogs, sites de noticias e twitter.
Recentemente um usuário questionou Micah Whipple, gerente de comunidade da Blizzard, se o Diablo III estaria chegando para os consoles e Micah foi categórico e ainda deu nomes aos bois: Sim, Josh Mosqueira (Company of Heroes e Dawn of War no curriculum) é o designer-chefe para o projeto de 'Diablo' nos consoles.
É bastante oportuno para Blizz investir no milionário universo dos consoles, que chegou ao ápice de popularidade nessa geração. Além disso, está mais que comprovado que o estilo Hack ´n Slash funciona tão bem nos consoles como nos PCs e para comprovar temos Torchligh, Bastion, Dunegon Siege III entre outros.
A ultima excursão da Blizzard pelos consoles foi exatamente com um port de Diablo 1 para o PSOne que foi um lixo. Teve também o caso Starcraft Ghost, que inicialmente seria um TPS para Nintendo 64, ficou rodando por outros consoles de outras gerações, mas acabou sendo engavetado. Mas em um passado distante a Blizz foi muito feliz nessas plataformas com a série The Lost Vikings, Blakcthorne, The Death and Return of Superman e o super amado e adorado por todos Rock N´ Roll Racing, joguinho de Car Destruction e maior desejo de fã por uma versão New Age. Blizz fica a dica.
E quanto uma noticia oficial não chega vocês vão continuar especulando porque a grana para minha edição de colecionador overpower dos zinferno para PC já está separada.
Por enquanto é só pessoal e até breve.
____________________________________________________________________
Paulo Koi usava o BoBaFeTT Trainer no Diablo I